I + II + III + IV + V + VI + VII + VIII + IX + X + XI + XII + XIII + XIV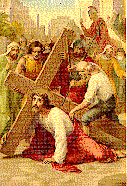 THIRD STATION

Jesus Falls the First Time under the Weight of the Cross

V. We adore thee, O Christ, and we bless thee.
R. Because by thy Holy Cross thou hast redeemed the world.


Bowed down under the weight of the Cross Jesus slowly sets forth on the way to Calvary, amidst the mockeries and insults of the crowd. His agony in the garden has exhausted his body; he is sore with blows and wounds; his strength fails him, he falls to the ground under the Cross.
O Jesus! who for our sins didst bear the heavy burden of the cross and under its weight, may the thought of thy sufferings make us watchful over ourselves, and save us from any grievous fall into sin.

Act of Contrition
O God, we love thee with our whole hearts and above all things and are heartily sorry that we have offended thee. May we never offend thee any more. O, may we love thee without ceasing, and make it our delight to do in all things thy most holy will.


OUR Father.
HAIL, Mary
GLORY be.

V. Have mercy upon us, O Lord.
R. Have mercy upon us.

+ May the souls of the faithful, through the mercy of God, rest in peace. Amen.


Oh, how sad and sore distressed
Now was she that Mother blessed
Of the sole-begotten one!
or
From pain to pain, from woe to woe,
With loving hearts and footsteps slow
To Calvary with Christ we go.

See how his precious Blood
At every Station pours:
Was ever grief like His?
Was ever sin like ours?